Pharmacy Residency Allen Hospital
Residency Programs Overview
Our PGY-1 pharmacy residents can look forward to being an active member of our team of healthcare providers involved in coordinated patient care. Pharmacists can expect to:
Provide confident and compassionate pharmaceutical care in multiple patient environments.
Promote optimal drug therapy outcomes as vital members of a healthcare team.
Receive advanced training in acute and ambulatory patient care, professional communications, pharmacy management and teaching.
Program Summary
Duration: 12 months
Number of Positions

Allen Hospital PGY1 Residency: 3, NMS matching #211313
Community-Based PGY1 Residency: 2, NMS matching #262315

Application deadline: January 6
Starting date: Mid- to late June
Estimated stipend: $48,505
Interview required: Yes, onsite or virtual depending on circumstances
Benefits of Joining Our Program
Exposure to wide range of clinical specialties
Achieve competency in all areas of hospital practice
Core and elective learning experiences leading to practice expertise, training and feedback from preceptors
Conduct major resident-led research project to be presented at a regional conference
Teaching opportunities, including both experiential and didactic experiences
Opportunity to complete a teaching certificate program as well as various other training activities
Other benefits include paid time off, Total Rewards benefits package, free and convenient parking, reimbursement for mid-year clinical meeting and regional residency symposium.
Allen Hospital PGY-1 Residency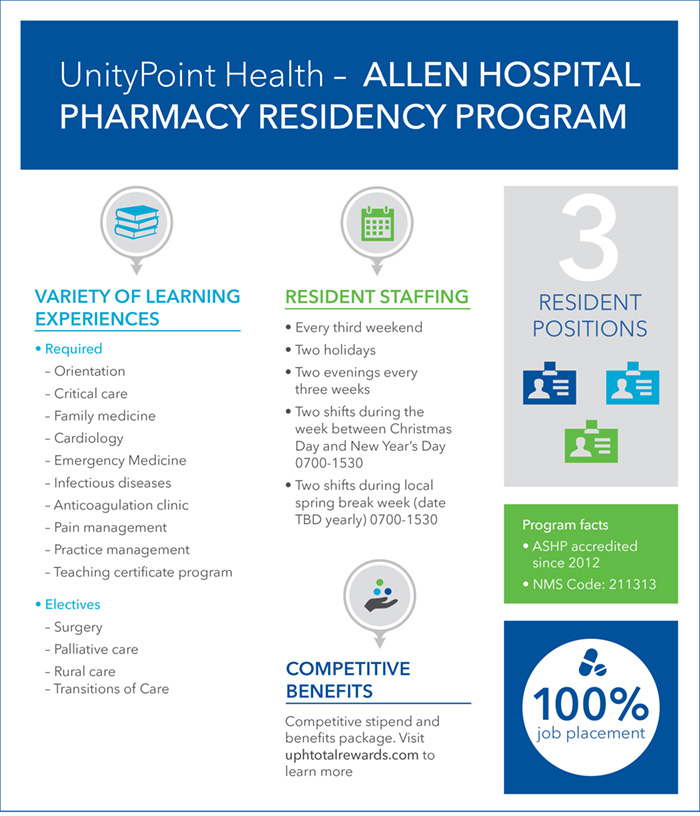 Variety of Learning Experiences
Required
Orientation
Critical care
Family medicine
Cariology
Emergency medicine
Infectious diseases
Anticoagulation clinic
Pain management
Practice management
Teaching certificate program
Electives
Surgery
Palliative care
Rural care
Transitions of care
Resident Staffing
Resident staffing is every third weekend, two holidays, two evenings every three weeks, two shifts during the week between Christmas day and New Year's day 0700-1530 and two shifts during local spring break week (date TBD yearly) 0700-1530.
Competitive Benefits
Competitive stipend and benefits package. Visit uphtotalrewards.com to learn more.
Additional Information
3 resident positions
ASHP accredited since 2012
NMS code: 211313
100% job placement rate
Learning Experiences
The residents participating in our 12-month residency will be accountable for optimizing drug therapy and achieving the best outcome for every patient, every time as a member of the inpatient healthcare team. The residents will provide drug information and education to patients, other healthcare professionals, and students. In addition, the residents will become proficient in developing habits to be a life-long learner, monitoring his or her own skills, and embracing a commitment to the profession and the community we serve.
Pharmacy Clinical Services
24-Hour Pharmacy Coverage for 7 UnityPoint Health Facilities
Ambulatory Surgery Pharmacy
Antibiotic Dosing Service & Stewardship Program
Automated Dispensing Machines
Epic CPOE
Intensive Care Unit and Family Medicine Multidisciplinary Rounding
Inpatient Warfarin Dosing Service
Inpatient Insulin Dosing Service
IV Admixture / TPN / Chemotherapy
Pharmacy Driven Medication Reconciliation
Outpatient Anticoagulation Clinics
Dedicated Emergency Department Pharmacist
Patient Support Groups / Education
Pharmacy Students / Residents
Renal Function Monitoring
Retail Pharmacy
Tech-Check-Tech Program
Outcomes
Our residency program is designed to develop practitioner excellence in the provision of patient-specific, evidence-based care and will focus on the development of knowledge and skills needed to become a competent and confident practitioner. Graduates of this program will be prepared to:
Manage and improve the medication-use process.
Provide evidence-based, patient-centered medication therapy management with interdisciplinary teams.
Exercise leadership and practice management skills.
Demonstrate project management skills.
Provide medication and practice-related education/training.
Utilize medical informatics.
About Allen Hospital
Allen Hospital is a 204-bed JCAHO- accredited institution. As a member of UnityPoint Health, it is among the top healthcare systems in the nation. The ranking is based on clinical quality and efficiency, according to results of Thomson Reuter's 100 Top Hospitals: Health System Benchmarks Study. All health systems in the United States with two or more short-term, general, non-federal hospitals - a total of 255 - were assessed for the annual study. See more about Allen Hospital.
The hospital features an electronic medical record and bedside barcode scanning with computerized physician order entry. The Department of Pharmacy has extensive automation, technology, and a state-of-the-art IV clean room. The pharmacy provides 24-hour service to inpatients at Allen and to four additional affiliates, and third-shift service for multiple affiliates across the state. In addition, Allen offers outpatient services through a retail pharmacy, two anticoagulation clinics, community cancer center and an ambulatory surgery center support pharmacy. The pharmacy acts as a training site for the experiential education of introductory and advanced practice experience pharmacy students from University of Iowa College of Pharmacy and advanced practice experience students from Creighton University College of Pharmacy.
Meet Our Preceptors
Allen Hospital PGY-1 Residency
Community-Based PGY-1 Residency at Prairie Parkway Pharmacy
UnityPoint Health – Prairie Parkway offers a full range of services with a focus on primary care, including OB/GYN; pediatrics; family medicine; internal medicine; endocrinology; urgent care; lab; radiology; occupational, physical, and speech therapy; behavioral health services; LGTBQ clinic; retail and drive-through pharmacy; and rotating specialties.
Pharmacy Services Provided
Medication therapy management (MTM)
Immunizations (on and off site)
Disease state education and management through pharmacy and clinic sites
Unique opportunities with affiliated hospitals and clinics (LGBTQ, anticoagulation, diabetes & endocrinology, etc.)
Discharge medication review
Management opportunities
Partnership with a local free medical clinic
Meet Our Preceptors
Community-Based PGY-1 Residency
Frequently Asked Questions